• Governor Biswabhusan Harichandan inaugurated 33rd Vijayawada Book Festival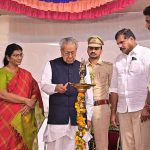 Vijayawada, February 9: Andhra Pradesh Governor Sri Biswabhusan Harichandan has inaugurated the 33rd Vijayawada Book Festival, organized by Vijayawada Book Festival Society in the Govt. Polytechnic College grounds here on Thursday.

Speaking on the occasion, Governor Sri Harichandan said that since the time he took over as Governor of Andhra Pradesh, he has gained better understanding of the richness of Telugu language. He said it was a matter of great pride for the Telugu people that Kavi Samrat Viswanatha Satyanarayana, who hailed from Vijayawada, had won his 'Jnanpith' award, the highest Indian literary award, for his epic novel VEYI PADAGALU and the fact that it was translated into Hindi by none other than Prime Minister Late Shri P.V. Narasimha Rao, speaks volumes of the litterateur's greatness. He further said that the grandeur of Telugu language is such that it is spoken by 81 million people all over the world, and it is the fourth most spoken language in India. The Governor said that while in prison during the Emergency period and later on, he had availed the great resources for writing books such as Rana Pratap, Maru Bataas, Manasi and other books in Odia language.

He said that every child must be moulded primarily to love his mother tongue, before he goes about learning other languages as communication is very effective in mother tongue and said he still remembered his childhood days, when they were encouraged to read great epics and moral stories from books in mother tongue. The Governor suggested that all parents should visit this book fair along with their children and encourage them to acquire good books and encourage children to read books from early age as they will be empowered with knowledge as they grow up reading books. He said that he was happy to learn that EMESCO and Visalandhra Book House, the doyens of the publishing industry in the State, have been felicitated by the State government with 'YSR Life Time Achievement Award.'
The 33rd Vijayawada Book Fair was named after Late Sri Ravikrindi Ramaswamy, popularly known as 'Vikram' Ramaswamy, in recognition of his service to the Book Festival Society and the main dais of the Book Fair has been named after Late Sri Gollapudi Maruthi Rao, writer and actor of Telugu Films for his literary contribution to All India Radio.

While Sri Botcha Satyanarayana, Minister of Education, has attended the inauguration programme as Guest of Honour, Smt. N. Lakshmi Parvathi, Chairperson, Andhra Pradesh Telugu and Sanskrit Academy, Sri Vijay Babu, Chairman, Official Language Commission, Sri Manohar Naidu, President, Vijayawada Book Festival Society, Sri Laxmaiah, Prajasakti Book House, and other dignitaries were among those who attended the programme.