NEW DELHI: The newly appointed Andhra Pradesh Governor Retd Justice S Abdul Nazeer called on Prime Minister Narendra Modi in New Delhi on Sunday.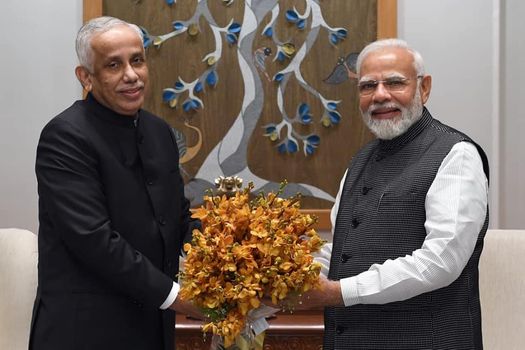 The Governor who was in the Nation's capital had earlier met  President Droupadi Murmu and also paid a visit to Vice President Jagdeep Dhankar, on Saturday.
S. Abdul Nazeer was welcomed by Aditya Nath Das, Chief Advisor, and Himanshu Koushik, Addl. Resident Commissioner, AP Bhavan, New Delhi, on his arrival at the Delhi International Airport, on Saturday.
Abdul Nazeer took oath as the Governor of Andhra Pradesh on Friday, succeeding Biswabhusan Harichandan, who is appointed as the Governor of Chhattisgarh.  A former Supreme Court Judge and part of the five-judge Constitution bench that gave the verdict on the Ram Janmabhoomi – Babri Masjid case, resulting in the 2.77-acre land parcel being given to the temple trust. He was a member of the bench which upheld the Central Government's 2016 demonetisation, the triple talaq case, and the right to privacy as a fundamental right, among others. 
న్యూఢిల్లీ: కొత్తగా నియమితులైన ఆంధ్రప్రదేశ్ గవర్నర్ రిటైర్డ్ జస్టిస్ ఎస్ అబ్దుల్ నజీర్ ఆదివారం నాడు న్యూఢిల్లీలో ప్రధాని నరేంద్ర మోదీని కలిశారు.
దేశ రాజధానిలో ఉన్న గవర్నర్ అంతకుముందు  ప్రెసిడెంట్ ద్రౌపది ముర్ముని కలిశారు, శనివారం ఉపరాష్ట్రపతి జగదీప్ ధంకర్‌ను కూడా సందర్శించారు.
S. అబ్దుల్ నజీర్‌ను ముఖ్య సలహాదారు ఆదిత్య నాథ్ దాస్, రెసిడెంట్ కమిషనర్ హిమాన్షు కౌశిక్ ఏపీ భవన్, న్యూఢిల్లీ, శనివారం ఢిల్లీ అంతర్జాతీయ విమానాశ్రయానికి చేరుకుని స్వాగతించారు
ఛత్తీస్‌గఢ్ గవర్నర్‌గా నియమితులైన బిశ్వభూషణ్ హరిచందన్ తర్వాత అబ్దుల్ నజీర్ శుక్రవారం ఆంధ్రప్రదేశ్ గవర్నర్‌గా ప్రమాణ స్వీకారం చేశారు.
రామజన్మభూమి – బాబ్రీ మసీదు కేసుపై తీర్పు, కేంద్ర ప్రభుత్వ 2016 నోట్ల రద్దు, ట్రిపుల్ తలాక్ కేసు, గోప్యత హక్కును ప్రాథమిక హక్కుగా సమర్థించిన ధర్మాసనంలో సభ్యుడు గా S. అబ్దుల్ నజీర్‌ ఉన్నారు.