జగనన్నే మా భవిష్యత్
ఒంగోలు : ఈ రోజు (ఏప్రిల్ 7వ తేదీ నుండి 20 వ తేదీ వరకు) ఒంగోలు నియోజకవర్గంలో స్థానిక శాసన సభ్యులు మాజీ మంత్రివర్యులు శ్రీ బాలినేని శ్రీనివాసరెడ్డి కలిసి తో జగనన్నే మా భవిష్యత్ ప్రారంభోత్సవ కార్యక్రమంలో పాల్గొన్న ఆంధ్రప్రదేశ్ గ్రంథాలయ పరిషత్ చైర్మన్ ,ఒంగోలు నియోజకవర్గ పరిశీలకులు శ్రీ మందపాటి శేషగిరిరావు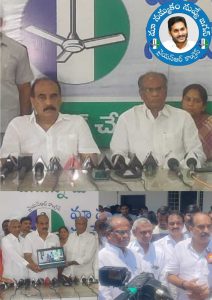 ఈ సందర్భంగా మీడియా సమావేశంలో చైర్మన్ శేషగిరిరావు మాట్లాడుతూ రాష్ట్ర వ్యాప్తంగా 7 లక్షల మంది వాలంటీర్లు , గృహసారధులు , కోటి 60 లక్షల మందిని కలుసుకోనున్నారు. జగనన్న పాలనలో పేదలు ఎంత సంతోషంగా ఉన్నారో వివరించనున్నారు. చంద్రబాబు ప్రజలను ఏ విధంగా వంచించాడో అందరికి కళ్ళకు కట్టినట్లు కనపడుతుందని అని , జగనన్న పాలనలో రాష్ట్రమంతా సుభిక్షంగా ఉందని , వాక్ విత్ టాక్ ప్రజల అభీష్టం మేరకు జరిగే కార్యక్రమం అని , జరిగిన మంచి గురించి ప్రజలకు వద్దకు తీసుకెళ్లడమే కార్యక్రమం యొక్క ముఖ్య ఉద్దేశ్యం అని అన్నారు.
గడప గడపకు సంక్షేమం
గుండె గుండెల్లో జగన్
రాష్ట్రమంతా ఒకే నినాదం
మా నమ్మకం-నువ్వే జగన్
जगनन्ना हमारा भविष्य हैं
आज (7 अप्रैल से 20 अप्रैल) आंध्र प्रदेश ग्रंथालय परिषद के अध्यक्ष और ओंगोलू निर्वाचन क्षेत्र के पर्यवेक्षक मंडपाती शेषगिरि राव ने पूर्व मंत्री बालिनेनी श्रीनिवास रेड्डी, ओंगोलू निर्वाचन क्षेत्र के स्थानीय विधायकों के साथ जगनन्ना मां भविष्य के उद्घाटन समारोह में भाग लिया।
इस मौके पर अध्यक्ष ने मीडिया कांफ्रेंस में कहा कि प्रदेश भर में 7 लाख स्वयंसेवक, गृहस्थ और 60 लाख करोड़ लोगों से मुलाकात की जाएगी. वह बताएंगे कि जगन्नाथ के शासन के दौरान गरीब कितने खुश थे। उन्होंने कहा कि जिस तरह से चंद्रबाबू ने लोगों को धोखा दिया है, जगन्नाथ के शासन में पूरा राज्य समृद्ध है, वॉक विद टॉक एक ऐसा कार्यक्रम है जो लोगों की इच्छा के अनुसार किया जाता है, और कार्यक्रम का मुख्य उद्देश्य लोगों को लाना है। जो अच्छा हुआ उसके बारे में लोगों को।
गडपा गडपा का कल्याण
जगन दिल के दिल में
पूरे प्रदेश का एक ही नारा है
हमारा विश्वास है कि आप जगन हैं
Jagananna is our future
Ongolu: Today (April 7th to 20th) In Ongolu Constituency local legislator, ex-minister Balineni Srinivasa Reddy and Chairman of Andhra Pradesh Granthalaya Parishad Mandapati Seshagiri Rao participated in the inauguration program of Jagananne our Future.
On this occasion, Chairman Seshagiri Rao said in a media conference that 7 lakh volunteers, householders and 60 lakh crore people will be met across the state. He will explain how happy the poor were during Jagananna's rule. He said that the way Chandrababu cheated the people is obvious to everyone, the whole state is prosperous under Jagananna's regime, Walk with Talk is a program that is done according to the will of the people, and the main purpose of the program is to bring to the people about the good that has happened.
The welfare of the Gadapa Gadapa
Jagan in the heart of every heart
The entire state has the same slogan
Our belief of future is Jagan