❇️ Accommodations in Gudepuvalasa and Lingalavalasa colonies at a cost of Rs.30 crores
❇️ As part of the package, 5 cents of land per family, Rs. 9.20 lakhs assistance
❇️ Community halls, parks, wide roads, business complexes for the convenience of people
❇️ Construction of tanks for drinking water supply.. Installation of taps from house to house
❇️ Full compensation will be provided.
❇️ Expatriates expressing satisfaction over the design of facilities and the cooperation of the authorities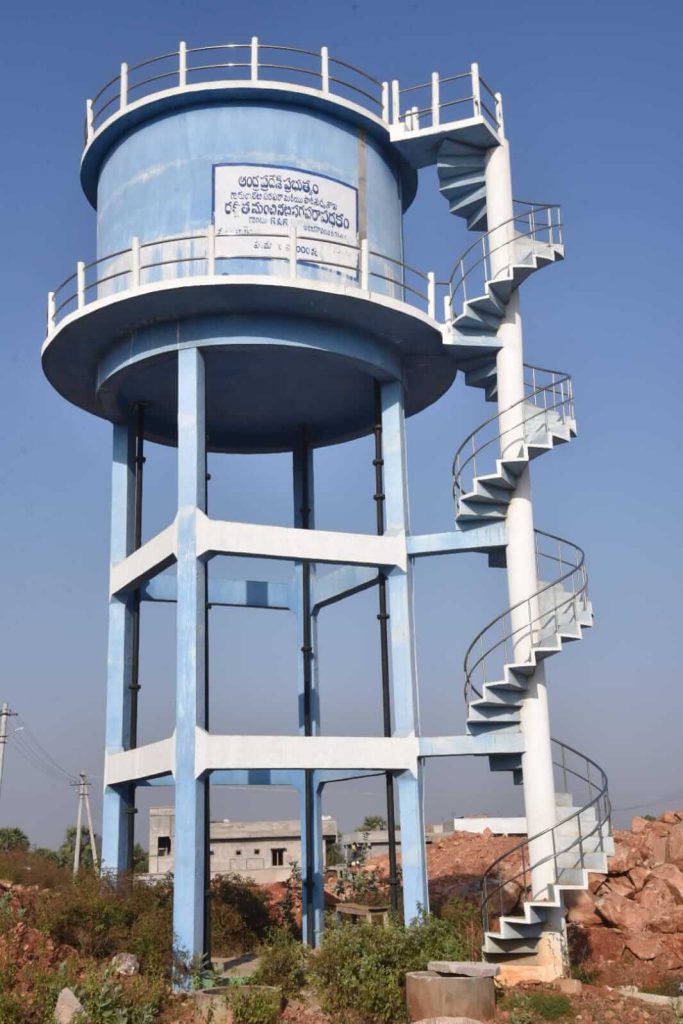 Vijayanagar, February 14: The government is standing by all means for the settlers who sacrificed their lands for the construction of Bhogapuram International Green Field Airport. It has built new villages with modern amenities along with paying full R&R package as per norms. About Rs.30 crores have been allocated only for the construction of infrastructure and special measures have been taken. With the special initiative of District Collector A. Suryakumari, Vijayanagaram RDO and Bhogapuram mandal level officials are always available to the residents and are meeting all their needs. Apart from paying compensation to the evacuees as per the provisions mentioned in the R&R package, the district administration has taken strong steps in constructing colonies with all kinds of facilities. In this context, he welcomed the refugees and expressed satisfaction over the arrangements made in the colonies.
New villages in Gudepuvalasa and Lingalavalasa
For the convenience of the villagers of Bollinkalapalem, Rellipet, Maradapalem and Mudasarlapet who sacrificed their land for the airport, the authorities have constructed two new villages. All kinds of facilities with modern amenities are provided. Colonies were built and made available as they liked with the complete acceptance of the expatriates. 223 families from Maradapalem village and 33 families from Mudasarlapeta village were settled in a separate colony in 25 acres of Lingalavalasa in Polipalli revenue range. 65 families from Rellipet and 55 families from Bollinkalapalem were rehabilitated by constructing a 17-acre settlement in Gudepuvalasa. A temporary free food facility has been set up for the convenience of the displaced people who have recently moved to the colonies. A medical team has also been made available in both the colonies to provide medical services till PHC services are available.
Big up for infrastructure planning
Wide CC roads, beautiful approach roads connecting to the main road, schools and Anganwadi centers have been constructed in Gudepuvalasa and Lingalavalasa colonies by spending Rs.30 crores. Keeping in mind the other needs of the people, beautiful parks, community buildings, Kalyana mandapas, temples of village deities were built and made available. Overhead tanks and door-to-door taps have been installed for drinking water supply. Besides, post office, business complexes and veterinary hospitals were established for other needs. It is also worth noting that crematoriums with a high protective wall are also set up to perform the last rites of the dead. Garbage disposal centers, high-power transformers for constant power supply, and various prayer halls have been set up.
Fully compensated
Vijayanagar RDO Suryakala said that they have paid full compensation to the evacuees as per the earlier agreement. It is said that 376 families have been given shelter in both the places. He said that five cents of land and financial assistance of Rs. 9.20 lakhs have been provided to each family. He also explained that additional compensation has been given to those who have lost their lands, houses, huts and kitchens as per the R&R package. RDO stated that Rs.34.59 crores have been paid for the construction of houses belonging to 376 families. He explained that we have supplied free sand up to 30 tons for the construction of one house to the displaced families. The residents of joint families also clarified that they have allotted five cents of land but all of them are living in the house built by one of them.. That is why empty sites are seen here and there.
Rest will be compensated…
RDO Suryakala made it clear that they will also provide compensation to those who are not covered in the package at present. He explained that there are about 25 more families who are expatriates in this order and they will be provided financial assistance. Also, 19 of those who got permission from the government in the past died accidentally, the RDO has made it clear that they will provide compensation to their family members. It is said that the decision will be taken according to the orders given by the court in the matter of providing the package to those who have completed 18 years of age. He also said that a special place will be allocated for the convenience of migrant workers and a special place will be built on the model of Jaganna.
Collector's special initiative for employment of expatriates
District Collector A. Suryakumari has taken a special initiative to provide immediate employment to the people who have reached the displaced colonies. Dwama PD was sent to the colonies and directed to identify those in need of employment and prepare a report. To this extent, some people have been given local work as part of the employment guarantee scheme from Wednesday. The authorities are taking steps to link job cards to them in the area near the colonies and provide them with local employment.
There is no force.. We moved with their consent
Those who sacrificed land for the airport were not forcibly evicted. Every action was done with their permission and acceptance. We arranged special vehicles and moved them to the colonies. After giving due time, we started the process of moving. We have paid the compensation in 2021 itself. From then till now, we have extended the deadline several times as per the request of the evacuees. The residents themselves said that they will go to new colonies after Sankranti. However, we gave another month. We have completed all kinds of work to be done on behalf of the government in the colonies. As the conditions were not favorable, the residents here and there could not build their houses on time. Everything will be completed soon. There are no problems in the planning of infrastructure.
RDO Suryakala, Vijayanagar.
………………………………………… ..
Residents' views
………………………………………… ..
1) The facilities in the colony are good…
We came here four days ago. Colony is very big. Drainages are well built to drain away large roads, rain water and waste water. Schools and Angan Wadi centers were built for the education of children. Temples and prayer halls are being constructed for the convenience of all classes of people. A park has also been arranged for children to play. Here everyone was given space for fifty cents. Money of Rs.9.20 lakhs was also handed over for the construction of the house. We were brought here by special vehicles.
Yarramshetty Appalaraju, (8th Ward Member) Gudepuvalasa
2) Officials cooperated well…
As mentioned earlier, everyone was given land. They also gave money to build a house. The officials and staff have cooperated well in bringing us here. We are fine here. There are schools and anganwadi centers for children.
Bhavani of lemons and Gudepuvalasa
3) Every house has taps…
We arrived a month earlier than everyone else. Electricity was installed here as soon as we arrived. Faucets are also installed from house to house. We got all the money. Everything is fine now. Some people are still building houses. It would be even better if everyone's houses were gone.
Bollinkala Narasayamma, Gudepuvalasa