TADEPALLI: The ruling YSR Congress Party (YSRCP) announced its list of 18 candidates for the upcoming MLC elections that are scheduled to be held on March 13, 2023, under various quotas. YSRCP leader and Advisor to the Government (Public Affairs) Sajjala Ramakrishna Reddy announced the names of the YSRCP candidates.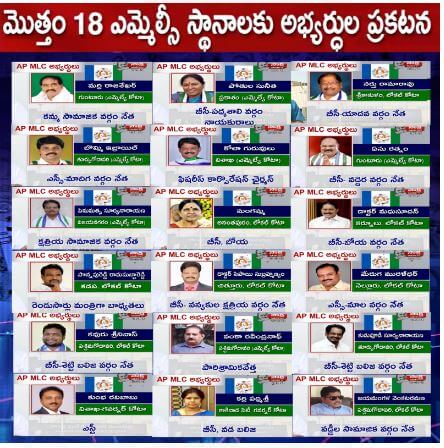 As part of this, Chief Minister YS Jagan Mohan Reddy announced the names of candidates for the MLC polls keeping in mind social justice by ensuring political, social, and economic empowerment of the Backward Classes, Scheduled Castes, Scheduled Tribes, and Minorities, he said. The names of the candidates were selected in the true spirit of this endeavour of social justice and empowerment which the YSRCP-led government was following in all aspects including appointing candidates for the AP Cabinet, Deputy Chief Ministers posts, in the Local Elections, MLA candidates and now the MLC candidates, he said.
Out of the 18 names, the YSRCP is fielding 11 BCs, 4 OCs, 2 SCs, and one ST candidate for the MLC elections.
The Election Commission of India (ECI) released the schedule for biennial elections to the Andhra Pradesh Legislative Council from 8 local authorities constituencies and also for three Graduates and two Teachers constituencies.
2 candidates Under Governor's Quota
Kumbha Ravi Babu – Alluri Seetharamaraju district – ST
Karri Padmasri- Kakinada – BC Vadabalija
7 candidates Under MLA quota
Penumatsa Subba Raju – OC Kshathriya community- Vizianagaram
Pothula Sunitha- BC Padmashali community- Prakasam
Bommi Isreal- SC Madiga- East Godavari
Kola Guruvulu- Fisheries Corporation Chairman- Vizag
Yesu Rathnam -BC Vaddera community- Guntur
Marri Rajasekhar -OC Kamma community – Guntur
Vanka Ravindranath- OC – Kapu community
Local Authorities Constituencies:
Anantapur- Mangamma BC – Boya community
YSR Kadapa-Ponnapureddy Ramsubba Reddy- OC – Reddy community
Kurnool – Dr Madhusudhan – BC – Boya community
Chittoor -Dr Sipayi Subramanyam- BC Vanyakula Kshathriya
Nellore -Meruga Muralidhar- SC – Mala
West Godavari -Jayamangala Venkataramana- Vadde community
West Godavari- Vanka Ravindranath- Industrialist
West Godavari – Kavuru Srinivas- BC Setti Balija
East Godavari – Kudupudi Suryanarayana BC- Setti Balija
Srikakulam – Nathu Rama Rao – BC Yadava
Poll Schedule for MLC polls in Andhra Pradesh
Last Date of filing nominations: 23rd February 2023 (Thursday)
Scrutiny of nominations: 24th February 2023 (Friday)
Last date for withdrawal of candidatures: 27th February 2023 (Monday)
Date of Poll: 13th March 2023 (Monday)
Counting of Votes 16th March 2023 (Thursday)
Date before which election shall be completed: 21st March 2023 (Tuesday)