Amaravati: Chief Minister and YSRCP President YS Jagan Mohan Reddy called upon the 5.6 lakh party secretariat convenors and Gruha Saradhulu to vigorously run the 'Jagananna is our future' campaign that would be held from March 18 to 26 across the State in the runup to assembly elections . 
At an extended Party meeting attended by MLAs, Ministers, coordinators, regional coordinators and district unit presidents here on Monday, the Chief Minister told them that the cadre should visit the 1.65 crore households during the campaign visiting door-to-door, spending time with families and explaining the slew of welfare programmes being implemented by the Government.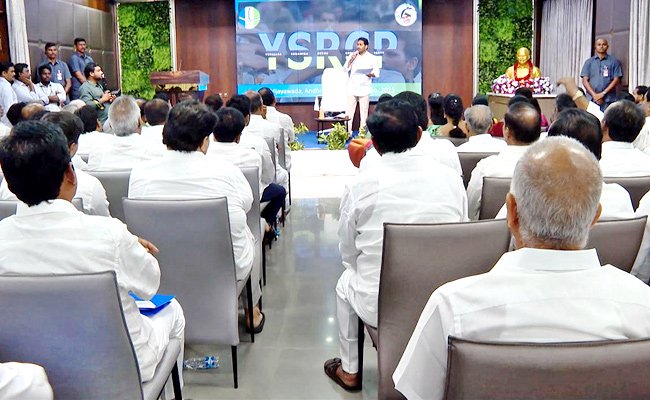 They should explain to the people how the Government is providing a transparent administration and taking the State forward with development compared to the TDP rule, he told them.
Party secretariat convenors should coordinate the 5 lakh Gruha Saradhulu who have already been appointed and the remaining would be appointed by Feb 16, he said, adding that training has been completed for the first batch of party convenors and Gruha Saradhulu in 387 mandals while the training for the second batch would be held from Feb 14 to 19.
He asked the MLAs to participate in the training camps and motivate the party convenors and Gruha Saradhulu and take up party programmes at the field level when the training is completed.
Also reviewing the Gadapa Gadapaku, mass contact programme, he stressed that it is very important and party leaders should complete it in the stipulated time meeting people, explaining about the welfare and development programmes being implemented by the Government.
The Party cadre should go ahead with the programme explaining to the people about the false propaganda of the pro-TDP media which is trying to hoodwink the people and denigrate the image of the Government for political gains. The Chief Minister was informed that the MLAs so far completed the Gadapa Gadapaku programme with about 7447 secretariats  visiting six secretariats in a month on an average.
He asked the district party presidents, MLAs and constituency observers to work in unison and bring victory to the party candidates in the forthcoming MLC elections being held for graduate and teachers constituencies.